Great on salads, steamed vegetables, fried foods, steamed fish, or as a dipping sauce for Japanese "nabe". Choose how you would like to use the dressing!
Because this is a recipe using only a Tablespoon of Kamada Ponzu Soy, please adjust recipe according to the type of food and number of people.
Chinese Garlic Flavored Sauce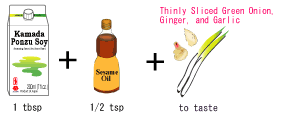 The aroma from the sesame oil brings out your appetite. Goes well with gyoza, shabu shabu, yakiniku (beef) or cooked fish.
Chinese Style Spicy Sauce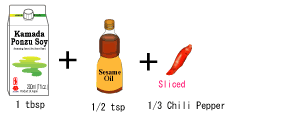 This goes well as a dressing on cucumbers (hit cucumber with a rolling pin to tenderize it so the flavor can soak in) and Chinese salads (bean-starch vermicelli, cucumber, ham, carrots, sliced eggs).
Refreshing Wasabi Flavored Sauce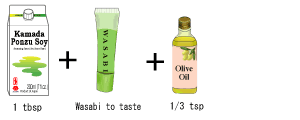 Great on steamed seafood and as a dip for steamed meat! The wasabi balances out the sourness and gives it a bolder taste. It is good as a dip for nabe, on nagaimo (chinese yams), and natto.
Spicy Onion Sauce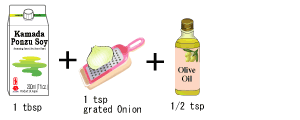 This refreshing Kamada Ponzu Soy and spicy onion sauce is delicious on yakiniku or katsuo tataki! It also goes well with potatoes, carrots and other cooked vegetables such as broccoli.
Refreshing Cucumber Sauce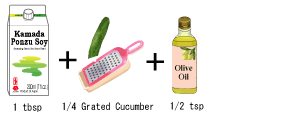 A new colorful taste sensation. Goes well with white fish meuniere and carpaccio. Also delicious when mixed with pasta.